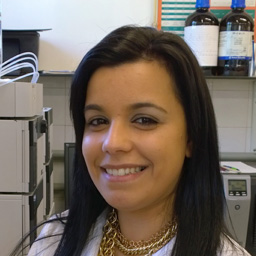 Eliana Andreia Pires Castilho Pereira
Junior Researcher
Group: Sustainable Processes and Products
Supervisor: Isabel Cristina Fernandes Rodrigues Ferreira
Phone: 273303532
E-mail: eliana@ipb.pt
ORCID: 0000-0003-2854-6745
Scopus Author ID: 55938912300


Career
Since 2018: Junior Researcher at CIMO-IPB for the Valor Natural Project
2017 - 2018: Research Fellow of the Mountain Research Centre
2016 - 2017: Research Fellow of the REQUIMTE
2012 - 2016: Research Fellow of the Mountain Research Centre
Qualifications
2016 - in Pharmacy and Health, Universidade de Salamanca, Espanha
2011 - in Food Quality and Safety, Polytechnic Institute of Bragança, Portugal
2010 - Food Engineering, Polytechnic Institute of Bragança, Portugal
Interests
Chemistry of Natural Products: Extraction, identification, fractionation and isolation of chemical compounds in natural matrices
Technology of Natural Products: Emerging technologies for conservation of plants (Research fellow by the PRODER project)
Development of functional foods by direct use or incorporation of extracts / fractions / compounds of vegetal origin (Research fellow in REQUIMTE and CIMO)
Biowaste valorisation. Optimization of extraction and stabilization methods. Bio-based ingredients.
Projects:

Total results: 55