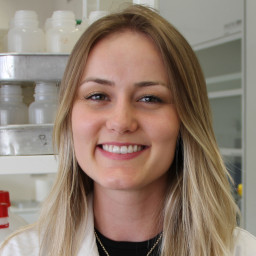 Larissa Camargo Ghirro

Group: Sustainable Processes and Products
E-mail: larissa.ghirro@ipb.pt
ORCID: 0000-0001-8849-8576
Scopus Author ID: 57456113600


Career
Since 2021: Research fellow in the BIOMA project - Integrated Bioeconomy Solutions for the Mobilization of the Agrifood Chain (POCI-01-0247-FEDER- 046112)
2020 - 2020: Scientific Initiation Scholarship in the project "Summer with Science"
2017 - 2018: Scientific Initiation Scholarship in the project "Clarification of vegetable oils: kinetic experiments and simulation of the industrial process and proposal for the creation of a modular mini center for oil whitening"
Qualifications
2021 - First degree in Food Engineering
2020 - Master degree in Food Quality and Safety
Awards and Honors
2021 - Award of ideas with the potential to become innovative pilot projects. Foundation "La Caixa". Project: "NatSauce – From nature to the table through innovation".
Interests
Food engineering
Chemistry engineering
Microencapsulation
Emulsions
Natural additives
Total results: 1
Ghirro L.C.,Rezende S.,Ribeiro A.S.,Rodrigues N.,Carocho M.,Pereira J.A.,Barros L.,Demczuk B.,Barreiro M.F.,Santamaria-Echart A.
Pickering Emulsions Stabilized with Curcumin-Based Solid Dispersion Particles as Mayonnaise-like Food Sauce Alternatives
Molecules, 27, , 2022